The warm weather this weekend got me in the mood for some spring cleaning. My kitchen has been packing on the clutter pounds over the winter and it was time for a refresh. I hate to have too many things on the counter top especially when I don't use them very often.
Here are the before photos
I rarely use the mixer and I felt like the dark purple utensil crock was bringing it down. I love the look of the white kitchen trend but as you can see my kitchen is far from it. I decided to clear the clutter and add some white to the mix!
The white utensil crock looks much better and I'm sure you can't tell from the photos but when I was making dinner last night I felt like I had a bigger kitchen with all of the counter space. Adding some fresh tulips from the grocery store is an inexpensive way to brighten up a room.
About the photos on the side of the fridge- I'm sure you'll never see pictures in magazines with photos on the fridge but I really like to see them. They don't feel that cluttered since they're not visible from a straight on view and I think it gives it a sense of family because after all this isn't a showroom- real people live here!
I'm on the search for something decorative to go in that corner behind the sink- it's a little dark back there without any under cabinet lighting but I think I'll stick with the white theme. I'm also thinking about a runner and really love the
Crate and Barrel Olin Grey Runner
.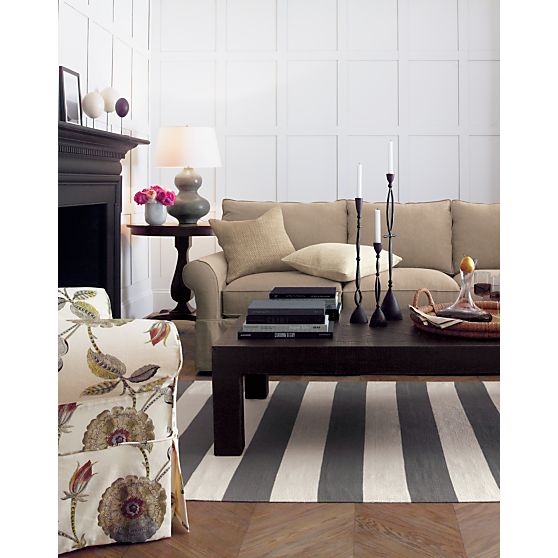 I have a major stripe addiction- can you tell? But isn't it nice?! It's just the right amount of modern for the kitchen.
Emily A. Clark is hosting a Link Up Party of "
Working With What You Have
"- head on over to see my link and a bunch of others!!